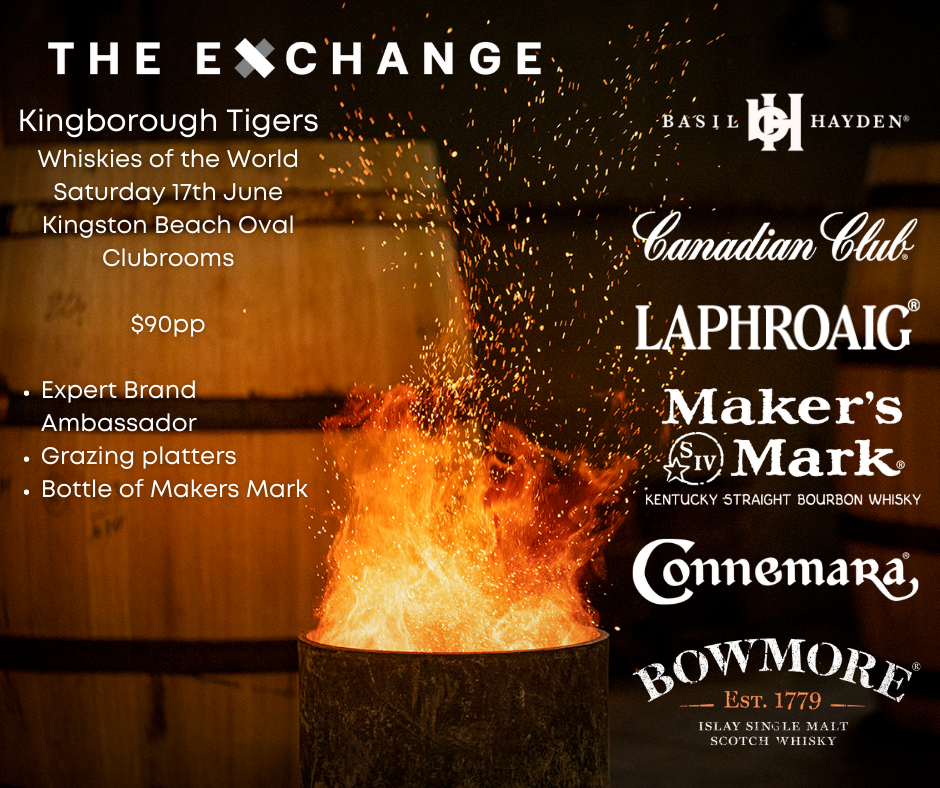 About the club
The Kingborough Tigers are based in the Kingborough region of Southern Tasmania, in the land of the Nuenonne People. Our Club acknowledges the traditional owners of the land where we gather, train for, and play our game of Australian Football. We pay our respects to the Elders past, present and emerging, and to the Indigenous players that play football with our Club.
The Kingborough Tigers were originally founded in 1886 as the Kingston Football Club. The Club joined the Southern Tasmania Football Association (STFA) in 1893 as a junior club before playing in the senior competition in 1895. In 2004 the Club changed its name to the Kingborough Tigers.
The Junior Football division of the Kingborough Tigers is now part of the Southern Tasmanian Junior Football League (STJFL), fielding teams for both girls and boys in the U8 to U17.5 age groups. In Season 2021, the Kingborough Tigers saw over 315 junior and youth players take the field each week to play AFL. We also had over 115 weekly Auskick participants, learning the fundamental skills of the game as well as having fun with friends.
We strive to be a welcoming, inclusive and successful junior football club which provides the opportunity for young people to develop and play AFL in a safe, caring and enjoyable environment.
2023 Footy Tipping
See info below.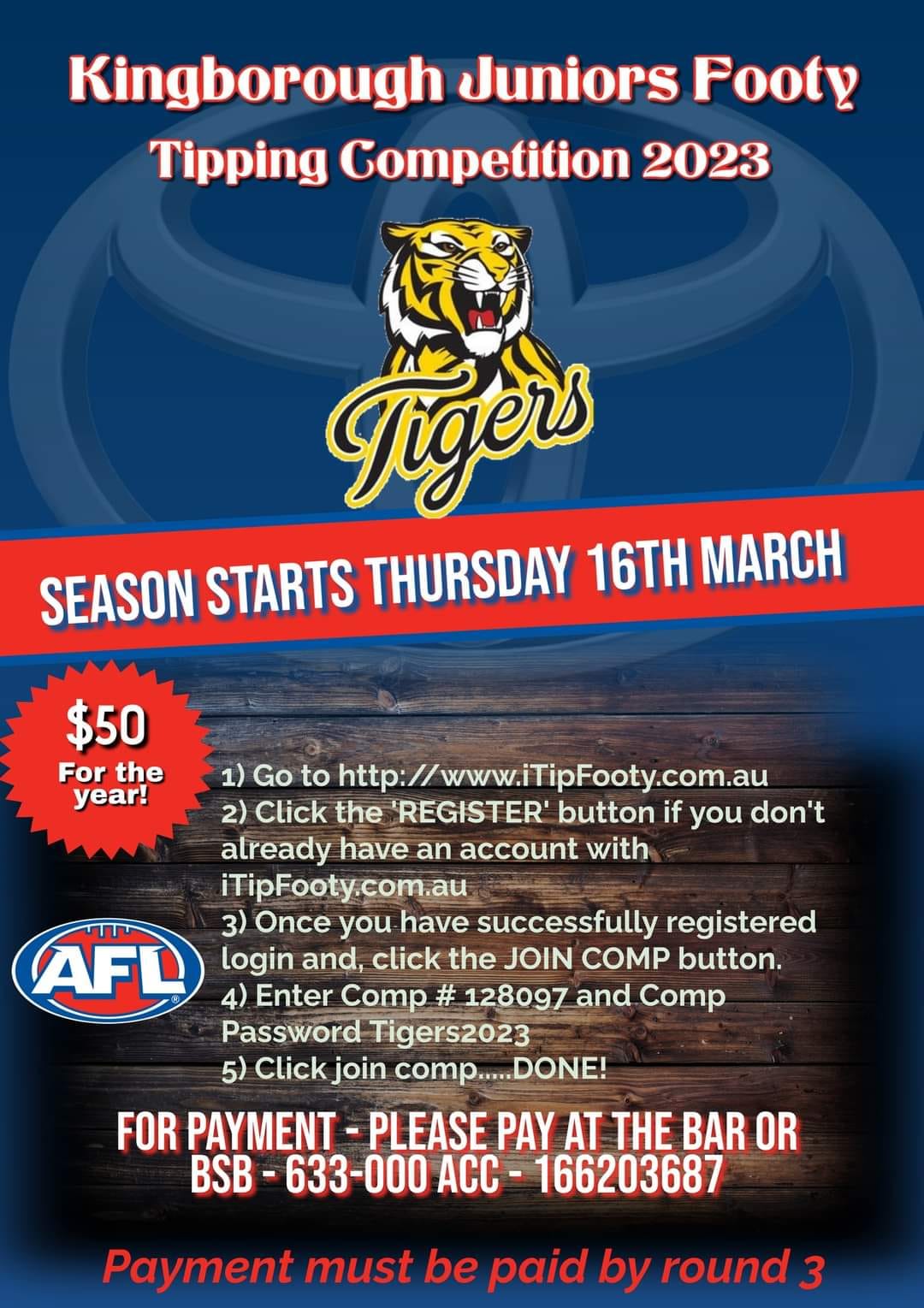 Auskick
NAB AFL Auskick is the best introduction for kids into the world of AFL. Auskick is run in weekly sessions for children of all abilities aged 5 – 12.

Auskickers run, jump, kick and build football skills playing in a safe and fun setting. Auskickers build fundamental motor skills and learn what it means to play as part of a team.

Auskick is run in small groups with lots of game based activities and parent/guardian involvement. Auskickers receive an Auskick pack full of goodies, junior membership to their AFL club of choice, and opportunities to play at half-time of AFL and AFLW matches. Join the fun!
Auskick starts on Friday 28th April from 4:45pm at Kingston Beach Oval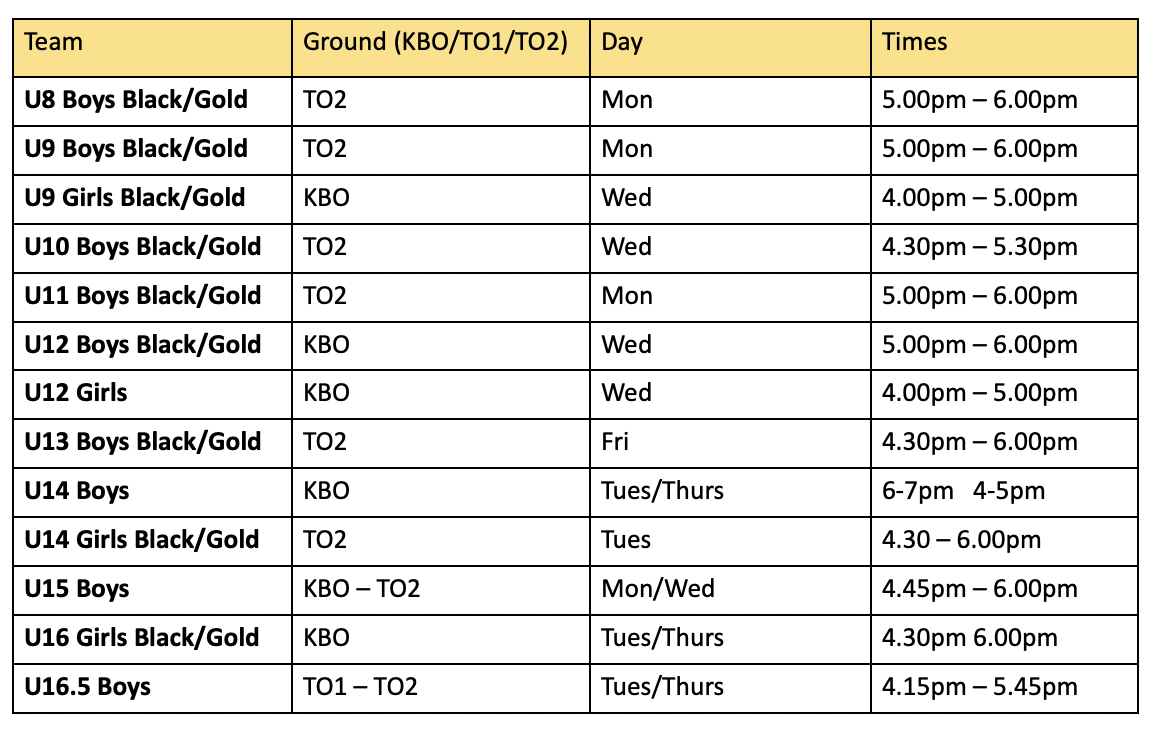 Register for the 2023 season
The AFL has transitioned to Play HQ for registrations.
If you have previously registered with Sports TG, please use the same email to register with Play HQ.
By doing so Play HQ will recognise and transfer your previous footy record.

In Season 2023 the KIngborough Tigers are fielding teams for boys and girls from the ages of 7.5 to 16.5 years.
Registrations will open January 17th.
Register Here
Our Junior Coaches (U8–U12)
Our junior coaches are volunteers who are dedicated to teaching the fundamental skills and rules of AFL, within the STJFL's modified juniors framework. Our coaches look to nurture each individual player's potential, with a focus on enjoyment of the game. Our junior coaches aim to provide players and their families with a positive football and social experience.
As per STJFL rules, our junior coaches aim to provide all players, regardless of ability, with equal playing time. All junior players are rotated through each zone in every game (back, mid and forward).
U9 Boys
Ash Humphrey
Robbie Edmand
Craig Roberts
U10 Boys
Brad Duggan
Jordan McPherson
U11 Boys
Todd Pepper
Brett Cornish
U12 Boys
Tom Darke
Colin Daun
Our Youth Coaches (U13-U17.5)
Our youth coaches are volunteers who are dedicated to helping players consolidate basic skills, acquire advanced technical skills and higher level competition skills and develop fitness. This includes decision making in games, developing competency within field positions and performance enhancing techniques. Our youth coaches endeavour for all players to feel an essential part of the team to develop self-efficacy, self-worth and a connection with community, club and team.
Within the STJFL competition our youth teams play for premiership points and in a finals series. Both individual and team awards are given at this level.
U13 Boys
Tim Wass
Scott Glanville
U14 Boys
Aaron Vince
Brian Mahony
U16.5 Boys
Jeremy Brereton
This year's merchandise
from Puma
We have a new range of Tigers' merchandise for 2022 now available to purchase.
At checkout, please select 'Local pickup.' All orders will be shipped to the Twin Ovals for collection.
View Size Chart
Shop now